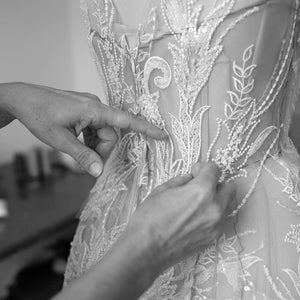 ATELIER
Beatriz Camacho is one of the few brands that still has an in-house atelier, with a team of over 40 experts that include pattern makers, cutters, seamstresses and embroidery and embellishing specialists that guarantee that all pieces comply with the brand's upmost quality standards.
We invite you to book a private appointment with Beatriz Camacho for custom evening wear and bridal pieces, at our atelier in Barranquilla. We will confirm your booking shortly. We look forward to meeting you.
Book a private appointment.