Beatriz Camacho
Founded in Cartagena, Colombia, in 1993, Beatriz Camacho stems from a genuine appreciation for comfort and subtle sophistication - poetic and sincere.
With acute, honest attention to material quality and detail, every garment looks to celebrate individuality through effortless, conscious design, thus balancing the creative essence of an artist with the pragmatism of the contemporary woman. It is under this emotional yet innovative approach that Beatriz continues to imagine timeless pieces rooted on a fervent passion for nature, art, and culture.
With roots in Colombia's Caribbean coast, and more specifically, Cartagena, the sea has been a constant pillar in every collection. Featuring exploratory prints, earthy colors, and often asymmetrical silhouettes, all pieces tend to also portray a cultural legacy. Even more so, Beatriz believes in the importance of having a special connection to each garment. This is why she focuses on creating clothes that last longer, look good, and feel even better on the skin. The use of natural fabrics such as linen, silk, and cotton are and have always been essential to the brand.
Our Textiles
Natural fiber textiles are our legacy, translating the brand's honest and conscious vision. We work mainly with silks, linens and cottons and simultaneously tell stories with our hand-illustrated prints.
CARING OF YOUR BC PIECES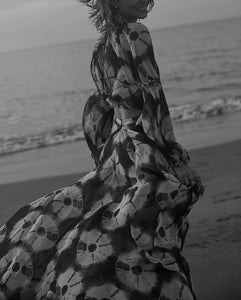 Through a series of commitments, Beatriz Camacho has always acted upon its acute awareness of the industry's need for change. Since the foundation of the brand in 1993, Beatriz has actively worked towards a slower, more coherent approach to fashion.
The brand is focused on creating unique garments of exceptional quality that last over time. Besides working mostly with natural fibers such as silks, linens, and cottons, Beatriz Camacho has also been pivoting towards exclusively organic and certified suppliers.
Similarly, the brand is currently adding corporate responsibility plans to its 28 years of experience with an inhouse, local production handled by 40 seamstresses that are ultimately family. Every garment is locally made and frequently enhanced by hand-made details.
Beatriz Camacho also takes pride in its ongoing involvement in "projects of positive impact"; partnerships with foundations in favor of conflict refugees, capsules to gather funds in favor of biodiversity, collaborations with local artists to raise awareness on environmental concerns, among many other projects, are a constant.